ET Scenar Expert Pro Super Special Offer. Buy both Scenar Expert Pro and ENAR, incl both ET training packages for $4,990 – SAVE $1,650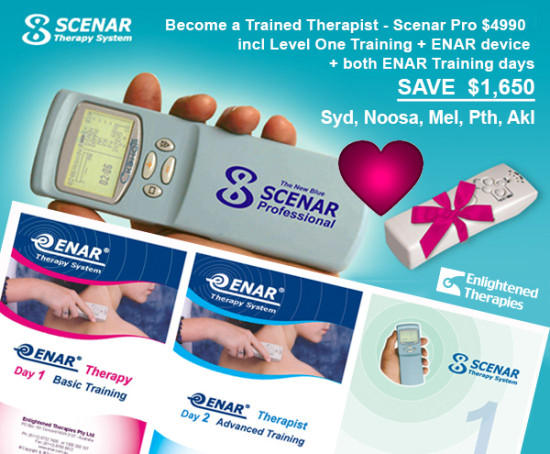 Buy Scenar Expert Blue Pro device + receive ENAR Therapy device, + 2 ENAR Training Days + Scenar Expert Pro Level One Cert 3-day training course
Pay $4,990 and save…. $1,650 !
Includes
Buy ENAR now and Save
ENAR Personal: $890 – Save $300 on list price! Special Offer Plus Pads & Leads $50.  Save $350 in Total. Buy Direct
Every New ENAR Therapy Device includes

Live Training Options

New SCENAR Pro Practitioner Kit
Introductory Offer – Pay Just $990 – and Save… $300 !
It includes:
ET Small Ball Y-Probe – Small Ball (large also avail)
ET Extension Leads (4-Way and 2-Way)
Adhesive Pads (Small + Long packs incl)
Through-Hair Comb dual / long
Through-Hair Brush Cluster short
Remote Long Probes Tipped (3 different)
Remote Mushroom Bell Probes
Remote Ext Face Probe
Fine Point Acu-Point Probe
Sturdy and professional carry all bag with a place for each item including your SCENAR and ENAR Devices
Order Practitioner Kit Now and Save $300     Order Now
ET Energy Blanket #2 – optional cotton cover
Buy the Energy Blanket standard size (220 x 160 cm) $690
Optional Quality Cotton Zip-Up Cover ( $80)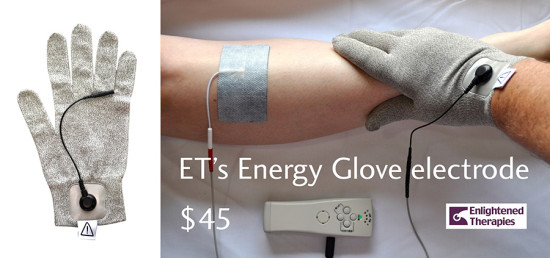 Persistent painful problems on arms. wrists, elbows, hands, knees, legs, feet? Chronic and structural limb problems often require extended ENAR therapy to facilitate real healing.  Invest in these new ET elasticised silvered garment electrodes created specifically for the hand (small or medium $45) , (ALSO – foot ($55), wrist/arm ($55), and arm/leg ($75). Requires two-way leads and a single medium sized sticky pad as an anchor, and gives a genuinely dispersed signal through the garment ensuring full stimulation over and round the entire covered area.  Try something unique and massage whilst wearing the electrode glove with pad on patient!  Buy the therapist's set of all four garments at $200 (Save 30)  Pay $200 – save $30.